Glücksplätze: Löckernmoos & Wildfrauenloch in Gosau
Relaxation in the upland moor
This name originated from a legend – for it is said that on "Vorderen Grubalm" there once lived wild ('wild' is here to be understood as 'shy') virgins in a crevice - the so-called "Wildfrauenloch " (wild woman hole). Here is where they hung their clothes out to dry in the sun. At harvest time, they came down to the valley to help the farmers with their work. In fact, the whole of the Löckernmoos, with the small Löckernsee lake in its romantic location at around 1,400m above sea level, in the middle of an upland moor, could be referred to as a place of happiness in Gosau.
Absolute solitude and silence characterize this meditation place. Lie down, open your eyes and watch the clouds in the sky. Listen to the birds, the gentle breeze and feel the power of the millennia-old moor beneath you. Sink deep into the cushions of moss and get one with nature. The spiritual site Löckersee is located on the 10,000 years old Löckermoos moor above the 'Schleifsteinbrüche' (grindstone quarries) in Gosau, amid mountain pines and heather bushes.
Hiking through Gosau upland moor
One of the most beautiful high moor lakes in Austria. A special natural spectacle for early risers. The sunrise over the small moor lake is unique. An unforgettable experience on your hiking holiday in Gosau! Fascinating impressions for all hiking enthusiasts! Also easy to get to with the slow train.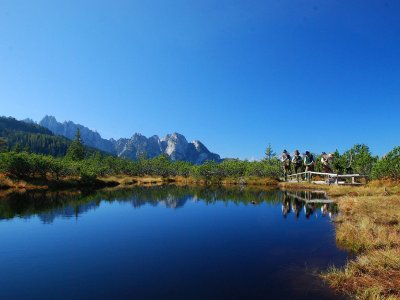 Events
Tue, Aug. 9, 2022 09:45 — 16:00 Sports ground Gosau, Gosau
Sun, Aug. 14, 2022 11:00 — 18:00 Badstubn Hütte, Gosau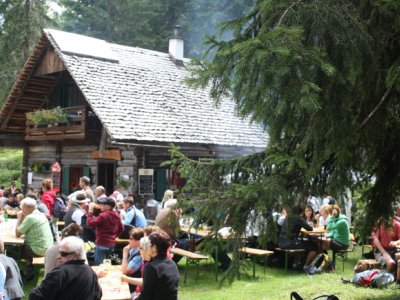 Sat, Sep. 10, 2022 09:45 — 16:00 Sports ground Gosau, Gosau